"Badges? We DO Need Those Stinking Badges!"
Hopefully, there are still some people out there that get that Blazing Saddles reference!
I remember in the 1990s how getting a badge on your website was a sneaky way for the website offering the badge to get links and the badges didn't mean much. Thank God those days are gone but, as it turns out, the badges aren't gone but they've changed.
Here's an example of badges I saw on a shopping website recently:

Website badges from trusted sources actually increase conversions. If you have them available from your SSL certificate issuer or from your payment gateway (like Authorize.net), then it's a good idea to have them on your website.
5 "Trust Badges" That Can Increase Your Conversion Rate (monetizepros.com)

In some surveys, as many as 61% of participants said they had decided not to purchase a product because it was missing a trust seal.
Which Ones Should You Have?
Some website badges are better than others. You have to look at price and how much they matter.
The company that issues your SSL certificate should provide you with one, so definitely use that. If you get one from your payment gateway, use that as well. There are others that convey trust and do things like scan your website for viruses or hacks/compromises. They range in price. We have a couple on the bottom of our own website.
Credit Card Logos
If you want to advertise that you take credit cards, then having credit card logos like Visa, MasterCard, Discover, American Express and so on can help convey trust as well as show that your website takes orders. Getting a merchant account does go through an underwriting process, so there is some scrutiny that your business goes through during that process. Your business gets checked out and looked into - including your credit and financials. People also see these logos all the time on websites and retail locations of businesses they trust. Definitely take advantage of credit card logos.
Business Associations
If you belong to some natiional associations for your industry or you've been certified, then definitely put those badges or logos in the footer of your website as well.
Make Your Own Badge?
The cheapest way to go, as the above article mentions, is to make up one of your own. Yes, doing that actually has an impact. What they're talking about is putting a "100% Money Back Guarantee" badge on your website. Of course, you have to back that up - but when people see that, sales/conversions go up.
Here are a few examples: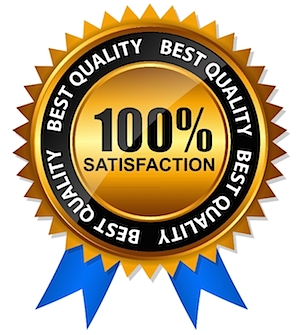 Conclusion
If possible, get the exact HTML code that any company offering a badge gives you. Often, the code will link directly to your profile or to information about your company or website. Website visitors can then click on them and find out more about what each badge means and investigate each one themselves.
Creating a successful website depends on many, small details. There are lots of details like this that might seem small but they matter a lot. Things like having your website use SSL/HTTPS, fast hosting/caching, microdata and other details can really improve sales. If using all these things increased your sales just 10%, wouldn't they be worth doing?
-Tony