April 27, 2017 | Written by Tony
We met with a new website maintenance client last week. We wanted to talk to them about Pay Per Click (PPC) and some nice upgrades to their website.
There were 6 of us in the meeting. Most of us were younger but the decision maker in the group was pretty preoccupied with getting one thing done and that item was so much on his mind that it appeared like other things were were mentioning weren't getting through. Just getting that one, smaller maintenance item (getting an old special off the website) was the most important thing and once that was done, it would seem like he could be open to more ideas and website improvements.
The meeting did go well but that was just one thing I noticed and we've already taken care of that task on their website.
So What's in Your Way?
We're all human and we can get something on our mind that just blocks everything else from being done. Everything else is blurred until one, particular thing is done. Once that's out of the way, the light from heaven comes in, angels sing and everything is fine.
Is it an image on your home page?
Is it an address that needs to be updated?
How about updating the list of employees?
Let's get that done for you. This is what we do!
One movie that I seem to refer to often is Forrest Gump. The line I like the best is when Forrest talks about how he invested in Apple and doesn't have to worry about money anymore. He says, "One less thing."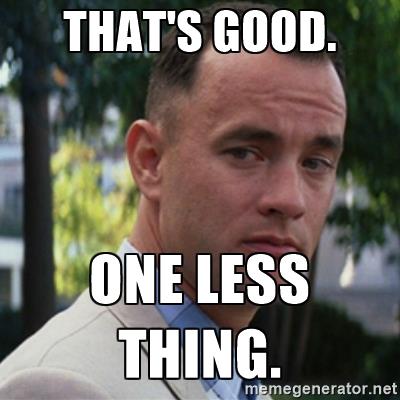 So what can Webstix help you with? Let's take care of those website update tasks that have been on your mind. Let's check those items off your "to do" list and free things up for you. Our team is ready and waiting to help you!
-tony